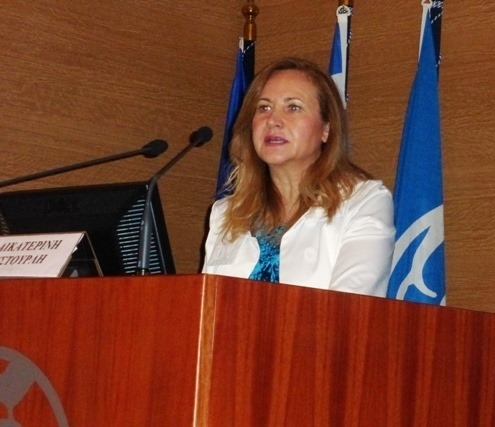 Full Name: Dr. Aikaterini Poustourli
Job title: Scientific/Technical Officer
Organisation Name: International Hellenic University (IHU)
Country: Greece

Linkedin Profile
Open Call Topics
Resilience / Civil crisis preparation; Hybrid civil/defence; Emergency management etc.
Technical Committees and Working Groups
CEN and CLC/BTs/BTWG 3 "CEN-CLC/BTWG 3 Standardization, Innovation and Research (STAIR)"
CEN/TC CEN/CLC/WS ZONeSEC "Interoperability of security systems for the surveillance of widezones
CEN/TC SECT/SF Security "CEN-CLC/SF on Security"
CEN/TC 391 "Societal and Citizen Security"
CEN/TC 391/WG 1 "Healthcare Facilities"
CEN/TC 391/WG 2 "CBRNE"
CEN/TC 391/WG 3 "Crisis management/civil protection"
CEN-TS_dCoC_Part 1 (Societal and citizen security — Digital Chain of Custody for CBRNE Evidence — Part 1: Overview and Concepts)
CEN-TS_dCoC_Part 2 (Societal and citizen security — Digital Chain of Custody for CBRNE Evidence —Part 2: Data Management and Audit)
CEN/WS CMEx "Implementation Guidelines for evaluation and assessment reporting of exercises for crisis management"
CEN/WS CER "Collaborative Emergency Response – Communication and sharing of operational information among multiple public safety agencies"
CEN/WS ERP "Structuring the emergency response plans of public safety agencies focusing on incidents such as CBRN and waste disposal plants emergencies"
CEN/WS IICDM "International and interinstitutional crisis and disaster management – Guidelines for the mapping of terminology and icons"
CEN/WS RDA "Emergency Management - Rapid damage assessment of buildings and alerting protocol"
CEN/WS SITAC "Management of forest fire incidents – SITAC-based symbology".
ISO/TC 292/WG 3 "Emergency management"
ENEPROT  ( UNIOΝ OF HELLENIC SCIENTISTS FOR PROTYPATION AND STANDARDIZATION)
TEE Special Scientific Committee on "Quality Infrastructures" (SC-QI).