HSbooster.eu, the recently launched Horizon Europe project has issued its official website, providing expert services to Research and Innovation (R&I) projects to help them increase uptake and impact of results by contributing to the creation or revision of standards.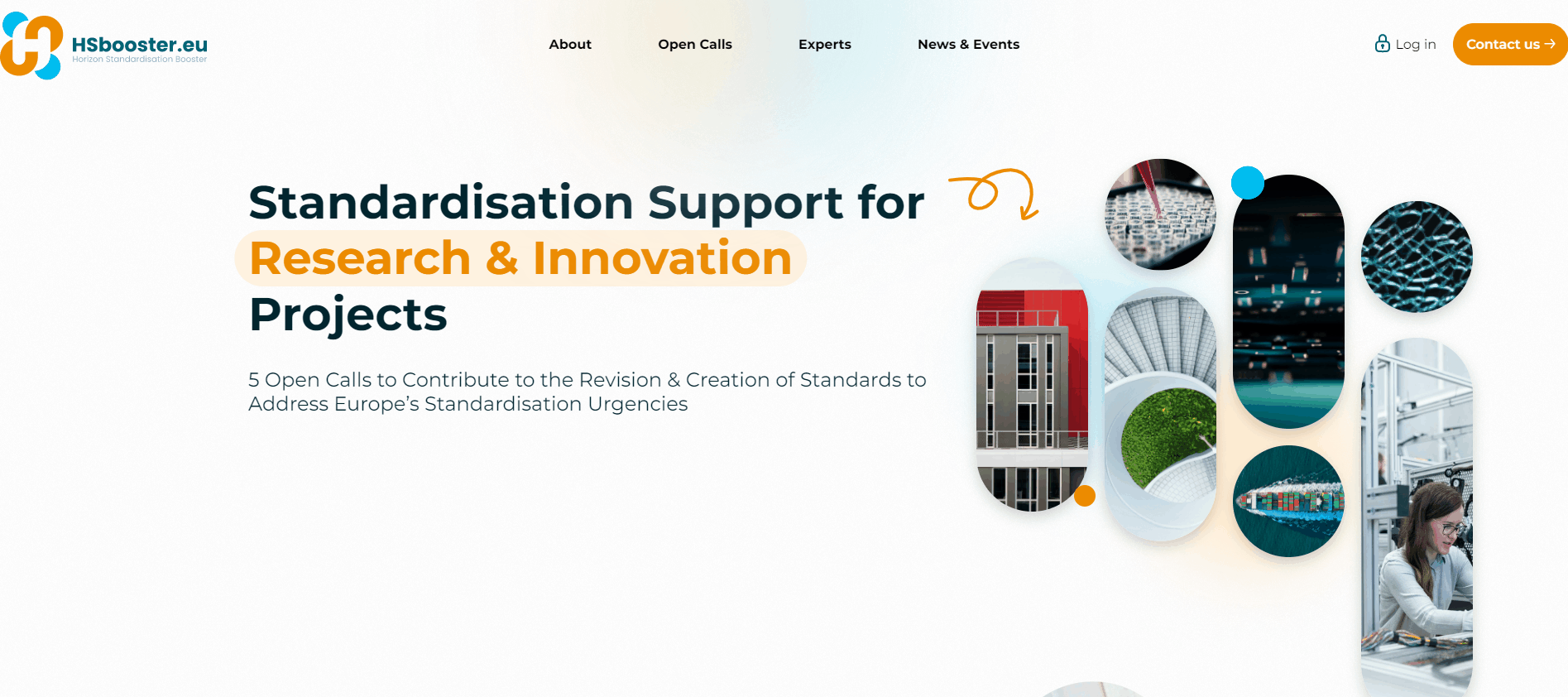 Standardisation experts, researchers and R&I Horizon Europe and H2020 projects (who depend on complete and up-to-date information about standardisation) can now head over the HSbooster.eu website. The website provides a single gateway to the entire spectrum of EU-funded research and innovation projects in a wide array sector. It offers new services for EU research projects that want to ensure that their results create a real impact by contributing to standards development.
If your project operates in fields correlated to the new Green Deal, medicines production, critical raw materials, climate resilience, transport, security or data spaces, the Booster will help you to transform your results into marketable solutions and to provide valuable input to standard development.
Delivering a set of support services
Standards play an important role in the valorisation of R&I results. However, often those wishing to get involved in standardisation find this environment difficult to navigate and costly, especially for SMEs and start-ups to participate in SDO working groups and committees. HSbooster.eu aims to act as the facilitator project to provide hands-on guidance and support and help navigate selected R&I projects to the right channels to stimulate sustainable development goals and the twin transition through participation in European/global standards efforts.
HSbooster.eu will set up, maintain, and evolve a facility, publicly available at www.hsbooster.eu, deliver the three standard service levels, aiming at bridging the EU R&I community and the standardisation experts. Service impact will be measured, and feedback from the end-users will serve to continuously improve the effectiveness of the support provided.
Automated Service: Practical guidance and support to steer the research results towards the most promising standardisation pathways.
Proactive Service: Prospective H2020 and HE projects are identified and proactively contacted to engage with the most appropriate SDO(s) or Working group(s).
Premium Service: Through the 5 Open Calls, H2020/HE projects will receive dedicated, specialised assistance in their standardisation efforts.
Open Calls
Over the next 20 months, we'll be launching five Open Calls covering topics related to the standardisation urgencies highlighted in the EU Strategy on Standardisation including:
Health
Resilience
Sustainable digitalization
Green transition in Europe
Smart cities and circular economy in buildings
The first Open Call will be launched on 21 June and run until 30 September 2022, while details on call topics will be published at the start of June. Open Calls will then run once every four months. Stay tuned for more details. See the Open Calls for R&I projects to learn more.
As part of the EU Strategy on Standardisation, HSbooster.eu will provide a tailor-made online platform and resources for standardisation experts in Europe to advise 1,000 Horizon Europe and H2020 projects on how best their research results can lead to the revision or creation of standards.
Our call for standardisation experts will open this week!
It will be the expert's role to offer direct guidance and support to make sure the project chooses the right strategic approach and contributes efficiently to the standardisation process. The services are provided at no cost for projects as part of the European Commission's Booster services, but the experts will be remunerated for their effort. Moreover, standardisation experts will be part of a strategic network of standardisation stakeholders and their support will be visible to the European Commission. They will also have the opportunity to interact with our External Advisory Group (EAG).
If you have experience in contributing to National Standards Bodies or European and international Standards Development Organisations, then we are looking for you to support R&I projects with one or more activities which may include:
Coaching in standardisation practices and procedures
Specifying current state-of-the-art standards
Identifying areas for new standards / revised standards
Advising on possible paths for open standards
Pinpointing optimal standardisation workflows and timelines
Join the 1st HSbooster.eu Webinar
The HSbooster.eu is inviting you to join its first webinar entitled "The European Standardisation Booster" taking place on 31 May 2022 at 11:00 CEST.
This Webinar will feature the entire HSbooster.eu Consortium and will present the unique opportunity offered by the newly launched initiative, whose key goal is to provide professional consultancy services to guide and support beneficiaries and consortia of Horizon 2020 and Horizon Europe R&I projects to make sure they take the right strategic approach and contribute efficiently to the Standardisation process in critical areas envisaged in the recently issued European Standardisation Strategy.
Register now to know more about the HSbooster.eu project and how to contribute to the revision and creation of standards in Europe!
---
Subscribe now to our newsletter and follow us on Twitter and LinkedIn to keep updated to the latest news.